Moro Premium ATF-III Automatic Transmission Fluid
A multi-purpose fluid blended from selected, highly refined base stocks and advanced additives. It is recommended for transmission systems, hydraulic systems, and power steering units manufactured worldwide requiring performance standards of ATF-III type fluids / DEXRON®-III (H), DEXRON®-III, DEXRON®-IIE, DEXRON®, MERCON®, Ford ESP-M2C138-CJ, Ford ESP-M2C166-H or Type A Suffix A, Allison C-3/C-4, or Caterpillar TO-2 fluids. Moro ATF-III, is not recommended for use in transmissions requiring GM DEXRON®-VI, Ford MERCON ®-V and MERCON® SP fluids.
Moro DEXRON®-VI Full Synthetic Multi-Vehicle Automatic Transmission Fluid
premium quality multi-purpose transmission fluids formulated to provide extreme protection, oxidation control, excellent low temperature and superior shear stability performance.
Moro DEXRON®-VI Full Synthetic Automatic Transmission Fluid is suitable for use in automatic transmissions calling for General Motors DEXRON®VI, DEXRON® IIIG/H, Ford MERCON® and Allison C-4, Toyota T-III and T-IV, Honda Z1, Nissan Matic D and Matic J, and Mitsubishi SP-II and SP-III, JASO 1A and other Asian OEM's like Hyundai, Subaru and Mazda performance requirements. In addition, it meets the requirements of European OEM's like ZF TE-ML-14A, Voith 55.6335, MAN 339 Ty.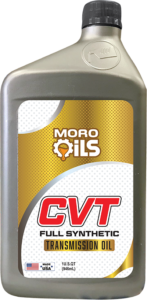 Moro CVT TRANSMISSION FLUID
Premium CVT Fluid (Continuously Variable Transmission Fluid) is specially formulated with a highly advanced additive package to meet the performance requirements of a variety of vehicles equipped with metal belt-type Continuously Variable Transmissions including Mini, Nissan and Subaru. Moro CVT Transmission Fluid has enhanced critical frictional characteristics that provide outstanding metal-to-metal frictional properties and a longer service life with improved high and low temperature protection. Moro CVT Transmission Fluid provides smooth shifting, a high level of both torque capacity and outstanding anti-shudder performance for enhanced driving comfort.
SAE-50 FULL SYNTHETIC TRANSMISSION FLUID
Moro SAE-50 Full Synthetic Heavy Duty Manual Transmission API MT-1 Fluid is formulated from a combination of premium synthetic base oils and an advanced high-performance additive package that provide maximum long-life, all-temperature, year-round equipment protection for heavy duty transmissions that require a premium non-E.P. fluid. Moro SAE-50 Full Synthetic Transmission Fluid reduces friction, wear at start-up, and maintains lubricity and film strength at high temperatures. It meets the requirements of Eaton and Rockwell for Extended Drain Intervals and can lower maintenance and downtime costs.